Soberg Window & Door Company – Replacement Windows & Doors For Your Home
The Best Window & Door Replacement Company For All Of Walworth, Rock, Boone & McHenry Counties.
With over 25 years of window & door replacement experience, we will most certainly ensure that you are getting the best quality products perfectly matched for your needs and budget. We work with you to help you find the financing option that's best for you. We have professional installers that don't rush just to get the job done. They are not done until you are completely satisfied. All of our products and labor are backed with the best warranties around. And YES, our company is insured so your home is in good hands with us. We make sure to take all the proper safety precautions inside your home and outside to protect your home from any unnecessary damage. Our pledge is to leave your home cleaner than before we got there.
Our commitment to have consistent communication with our customers means that you know exactly what is being installed, when it is being installed and how much it will cost. It also means that you don't have to worry about unexpected surprises because your contractor didn't take the time to have a conversation with you. We share every detail of your project with you. Our company is an open book.
It's a fact that a person's reputation is everything and so is a company's. That is why we make sure to treat you the way we would want to be treated. The way we would want our family member to be treated. We don't sell products that we wouldn't put in our own homes.
A Brief Description About Our Products
We offer a variety of exterior doors including: Entry Doors, Sliding Patio Doors, French Doors, Garage Service Doors. We also offer a variety of windows including but not limited too: Arch, Awning, Bay, Bow, Casement, Double Hung, Gliders, Hopper, Single Hung, & Special Shape windows, for more on our products check out our Services page.
In Conclusion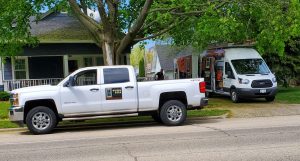 I have worked hard to make this a window and door company that homeowners can feel good about working with. The kind of company where you know you will get a great product and you don't have to think about what is going on because you know it is already taken care of.  And that is the kind of company I'm proud to be running! There's no gimmicks or cheesy sales pitches you have to listen to and no hidden fees ever. We work with you to make your replacement project perfect for you. So, if your ready to start but not sure where to begin, give us a call and we will help you find the perfect fit for your budget and your home.  You won't be disappointed. Do It Once, Do It Right!
  Troy Soberg, Owner